Calligraffiti is a form of modern art where calligraphy lettering and graffiti collide, resulting in a truly unique style.
When you come across writing on a wall, do you immediately see it as "vandalism" or "art"? When you witness Calligraffiti, you might find yourself in awe, unsure of how to classify this incredible fusion. Some might say it falls into the realm of abstract expressionism, while others simply see it as captivating street art that adds a vibrant touch to our urban landscapes. Calligraffiti is a testament to the power of art to transcend boundaries and bring together seemingly disparate forms into something truly extraordinary.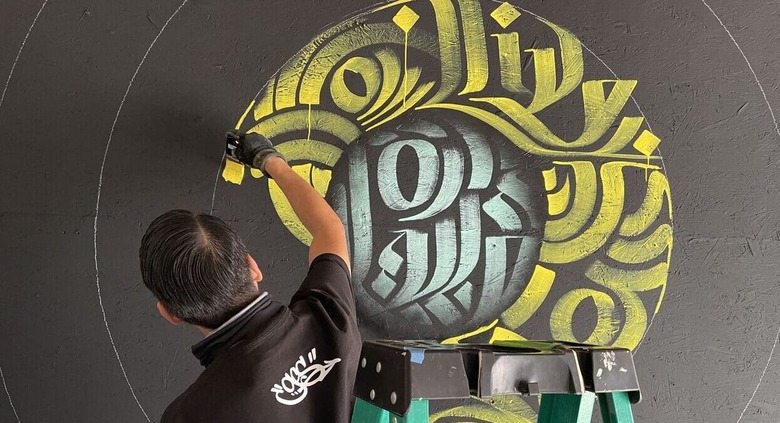 A glimpse of a new Calligraffiti mural taking shape at Progress on Main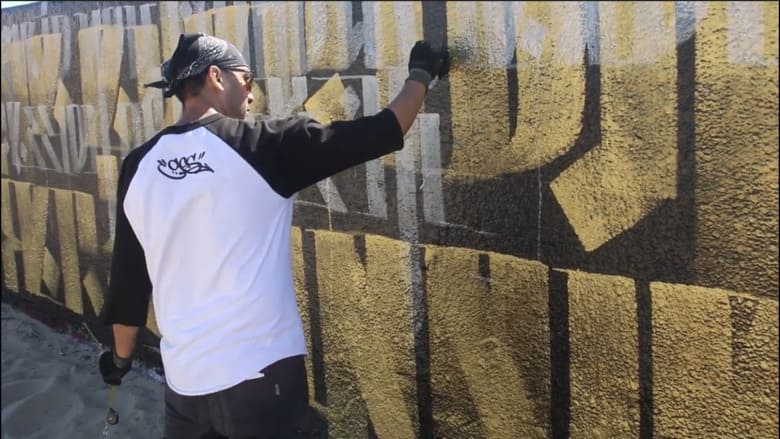 Black, gold and silver Calligraffiti mural at the Venice Art Walls
Styles Within Calligraffiti
3D Calligraffiti
One facet of Calligraffiti that I'm particularly drawn to is its the 3D branch. Mandalas in this style have a mesmerizing allure. Crafting 3D Calligraffiti murals necessitates the need for spray paint. The element brings the play on perception. Depending on the desired illusion, you can center the artwork's depth or its peak. If you want the center of the piece to have the deepest depth, initiate your strokes from the center. On the other hand, if the peak is the centerpiece, then start from the outer perimeter. As the mural progresses, each layer of lettering enriches its structure, while the shadowing with spray paint infuses depth, giving life to a multi-dimensional masterpiece.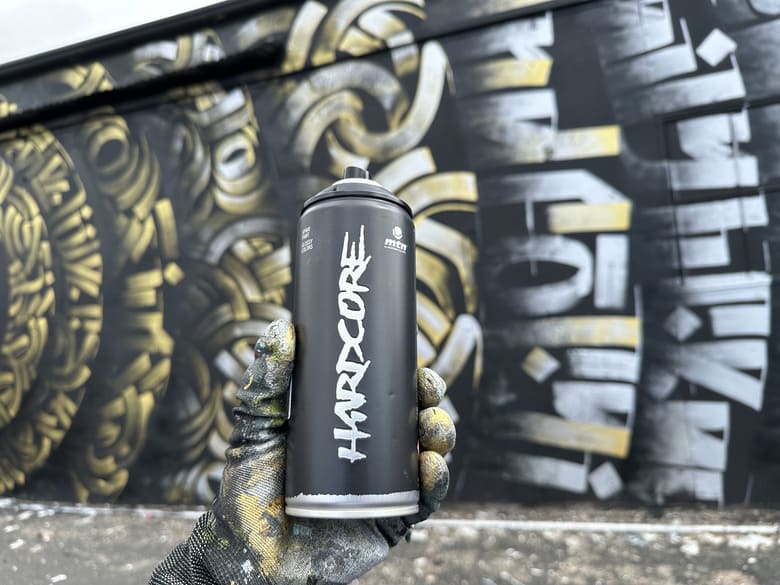 Montana spray paint is essential in creating depth for this type of painting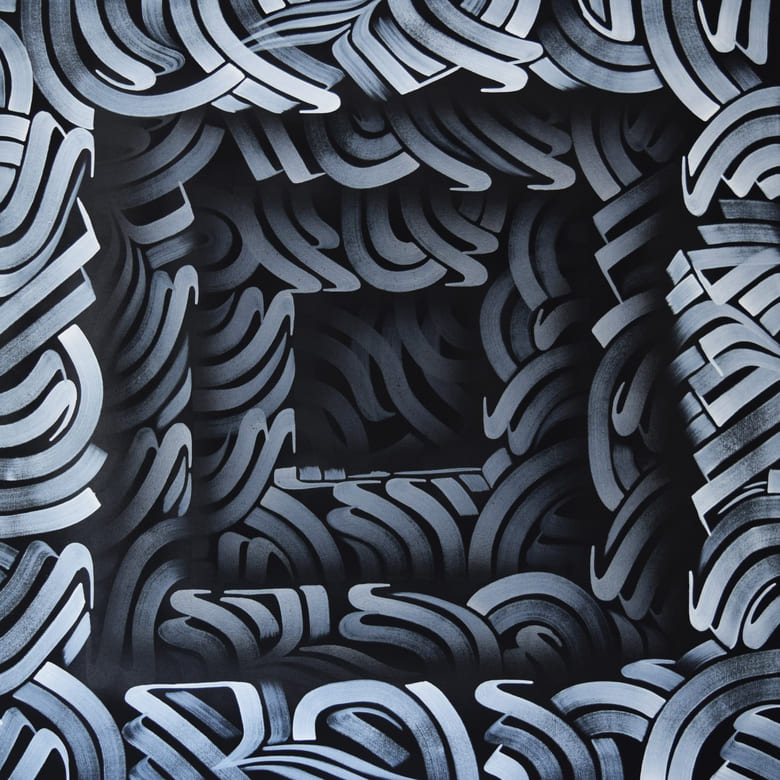 3d Calligraffiti painting with the center as the deepest level
Techniques used in Calligraffiti
The Chisel-Tip Brush
One primary weapon of choice for calligraffiti artists is the chisel-tip brush. These special brushes allow them to create both thick strokes and finer, more delicate lines, giving their artwork a dynamic range. Surprisingly, while the designs may seem meticulously planned, many of the gestural strokes are actually spontaneous, created right on the spot, adding an element of free-flowing creativity to the mix.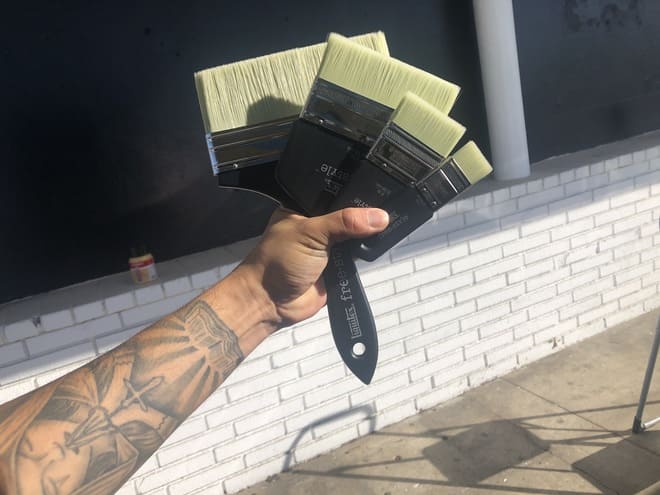 Liquitex Freestyle paint brushes from Art Supply Warehouse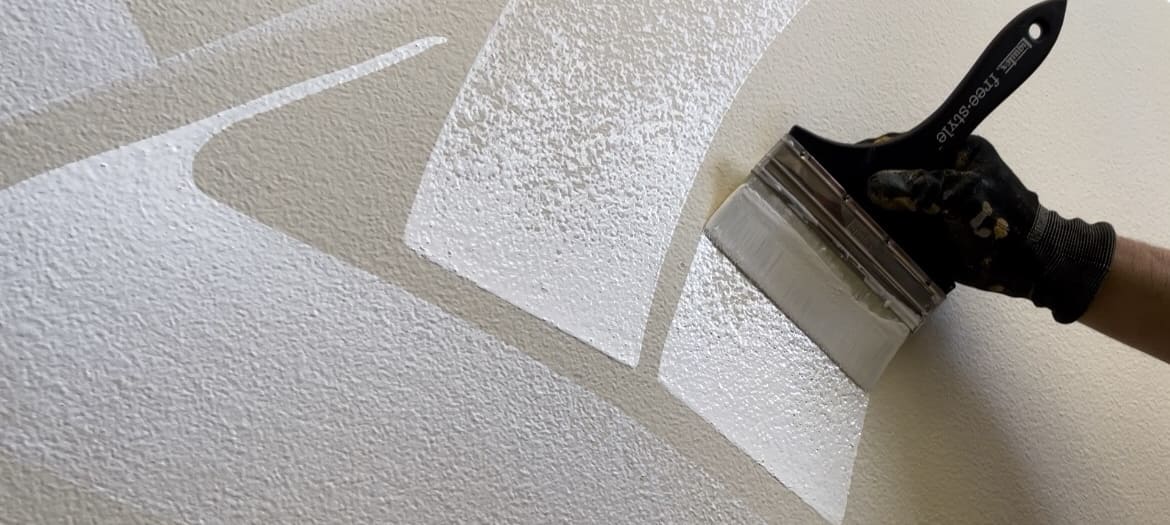 Residential accent wall mural being painted with Liquitex Freestyle six inch paint brush.
Paint Markers
Along with chisel-tip brushes, calligraffiti artists often gravitate towards the use of paint markers. These markers give artists exceptional control over their lettering, all while maintaining the authentic, textured aesthetic of paint. Their adaptability means they're equally at home on large-scale murals as they are on canvas, allowing for a versatile artistic expression. Also, when precision and detail are a focus, many artists find that paint markers give them a finesse that brushes might not always offer.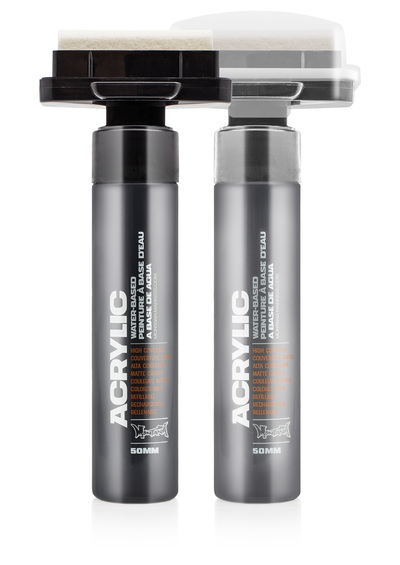 In the world of Calligraffiti, artists infuse classic graffiti elements, such as those iconic paint drips. It's a remarkable fusion where the fluidity and rhythm of calligraphy join forces with the expressive energy found in graffiti. The result? A breathtaking combination that showcases the versatility and boundless imagination of these talented artists.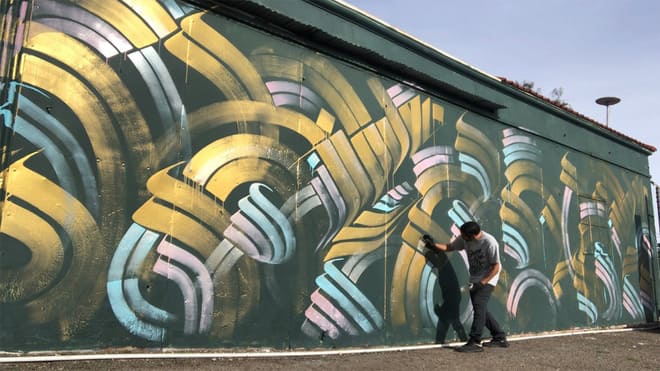 Calligraffiti street art at The Blue Lot in Downtown Santa Ana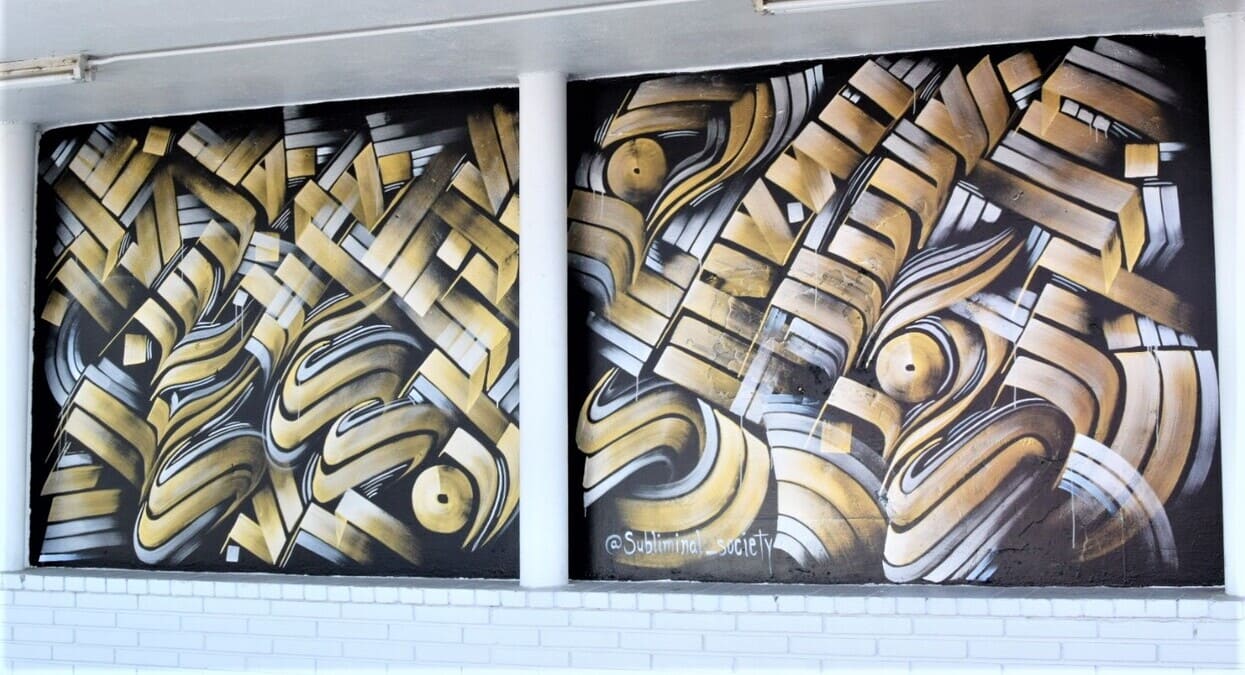 Calligraffiti public art on the building of Art Supply Warehouse
The Origins
Back in the early 2000s, something exciting burst onto the artistic scene—Calligraffiti. You know who we have to thank for this awesome term? Niels Meulman, a true legend in the art world. It was during his solo exhibition in 2007 that he not only developed this technique but also introduced it to the world. He famously said, "a word is an image and writing is painting." And you know what? Those words still resonate in the work of artists like Perez, who continue to carry the Calligraffiti torch today. It's incredible how a simple phrase can have such a profound impact on artistry.
The Two Best Calligraffiti Artists
Now that you're familiar with the captivating art form of Calligraffiti, let's look at two exceptional artists who have made significant contributions to this unique style: Cryptik and Defer.
Cryptik, the visionary behind the Cryptik Movement, is dedicated to guiding his audience toward greater awareness through his art. His work is a testament to his meticulous approach, as he intricately crafts each letter to push the boundaries of modern typography. With flawless execution and a refined aesthetic, Cryptik's pieces are a true testament to his artistic mastery. Each stroke and curve in his calligraffiti compositions is thoughtfully calculated, resulting in stunning works of art that demand attention and contemplation.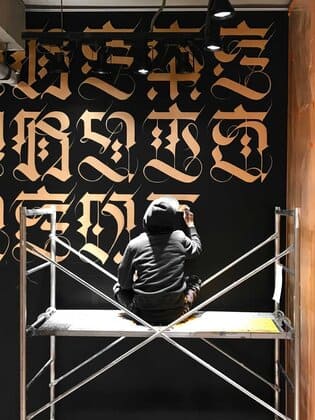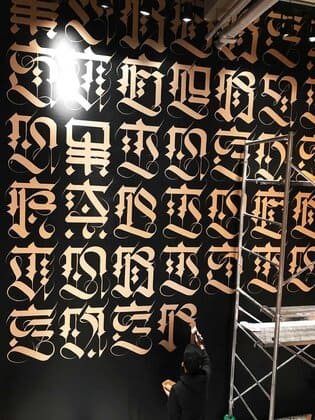 Image credit: Cryptik
Defer, also known as Alex Kizu, is a calligraffiti and freestyle artist who brings a unique dimension to the world of Calligraffiti. Describing his style as a 'spiritual language,' Defer immerses himself in a flow state where each stroke is unplanned and spontaneous. In this trance-like state, he taps into his artistic intuition, allowing his creations to unfold organically. The result is a breathtaking style that pushes the boundaries of abstract expressionism.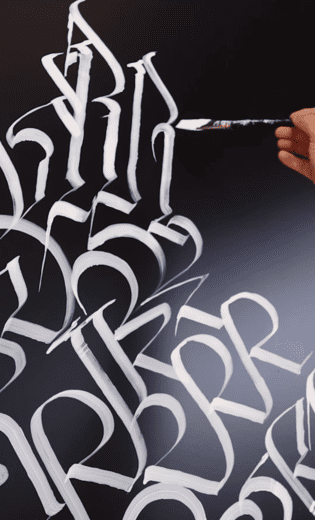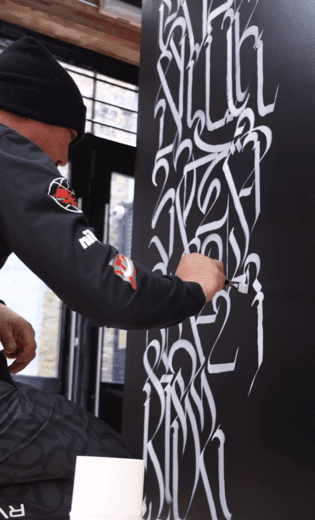 Image credit: Woodbury House Art Gallery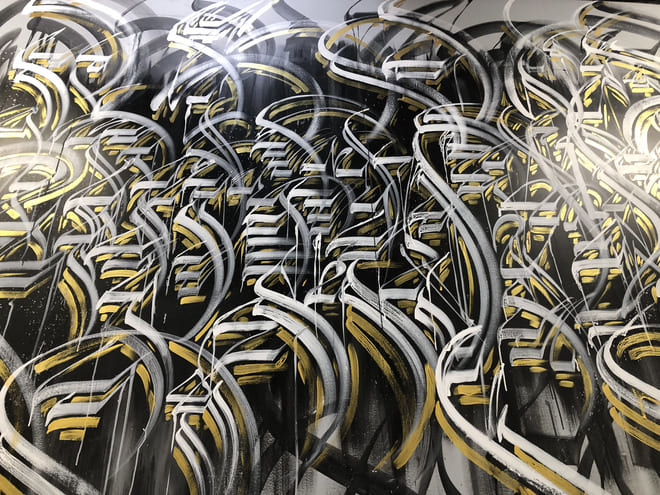 Defer mural at The Container Yard in downtown L.A