Venice Art Walls
Los Angeles, CA
Venice Art Walls
Los Angeles, CA

I've had the pleasure of painting at the renowned Venice Art Walls four times so far, and have frequented this vibrant location on numerous other occasions. This place is one of my favorite spaces to get lost in the paint. Picture this: arriving at the beach, music vibrating the sound waves, settling on the sand right next to the art walls, surrounded by a lively crowd having a blast. To add to the scene, the skate park stands adjacent, and the entire boardwalk just waiting to be explored.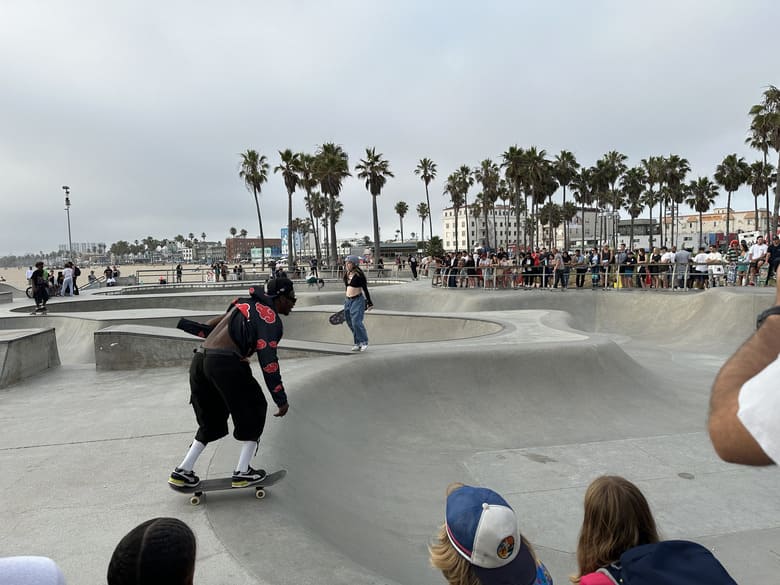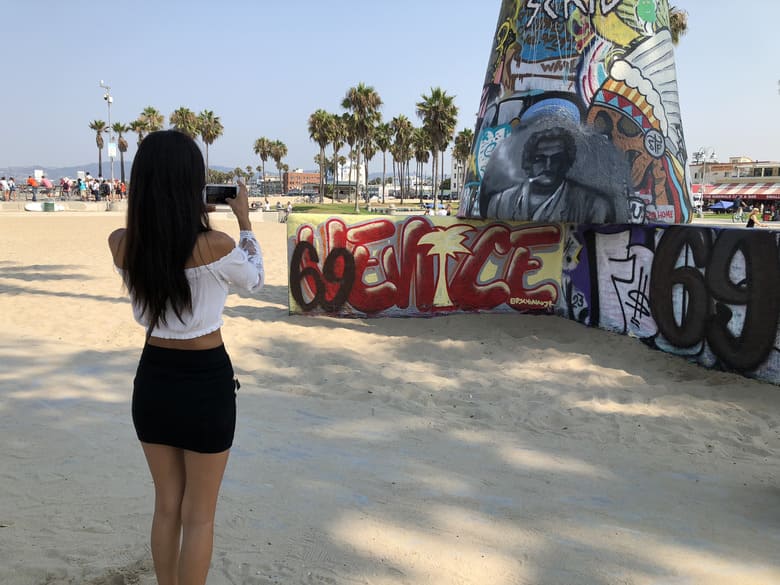 One thing that makes the Venice Art Walls such an interesting place to paint is the chance to connect with other creators. Immersed in the world of graffiti-style murals, I often find myself engaging in conversations with other artists who are producing awesome public murals. The process of painting becomes an avenue for making new acquaintances from all corners of the globe as people love to stop by and talk while I'm painting.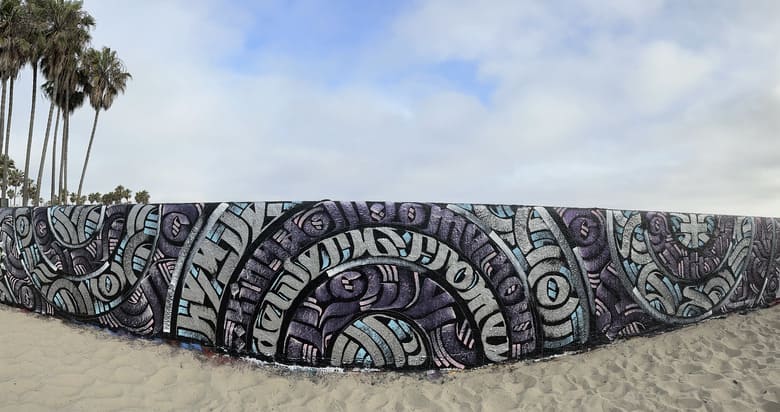 A calligraffiti, mandala mural made up of three half mandalas
A Shift in the Palette: A New Inspiration at the Venice Art Walls
During my recent trip to the Venice Art Walls, I took a fresh approach, deviating from my signature black and gold hues. This time, the palette featured metallic silver, a deep pearl purple, gentle light blue, soft pink, and pristine white.
The mural showcases a triad of half mandalas. Dominating the central mandala is a silver-lettered message, carrying the words of the Lord's prayer from Matthew 6:9-13. As I painted, my reflections centered on verse 10, "your kingdom come, your will be done, on earth as it is in heaven," evoking imagery from Revelation 21:1-3 of God's heavenly kingdom descending.
The day's overcast ambiance and the cool 72-degree weather seemed to perfectly complement my chosen color scheme.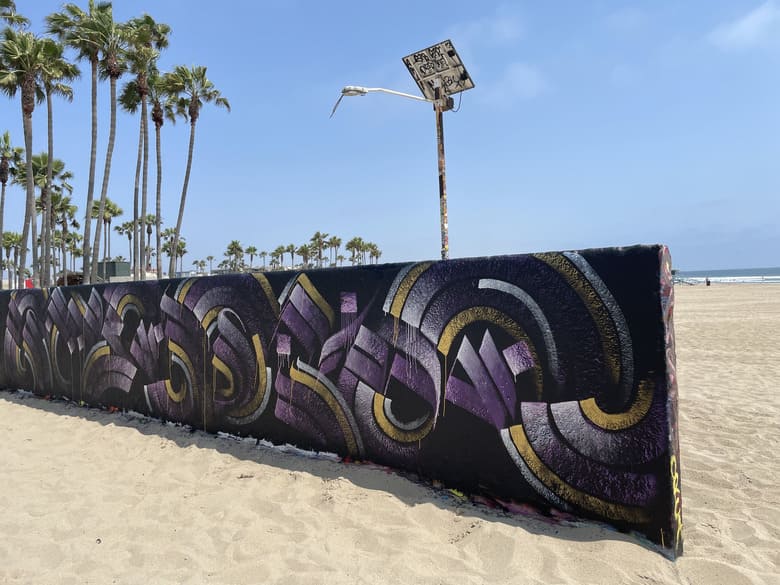 This mural subliminally conveys "Hope" and "Love" by using those words as the main strokes of the design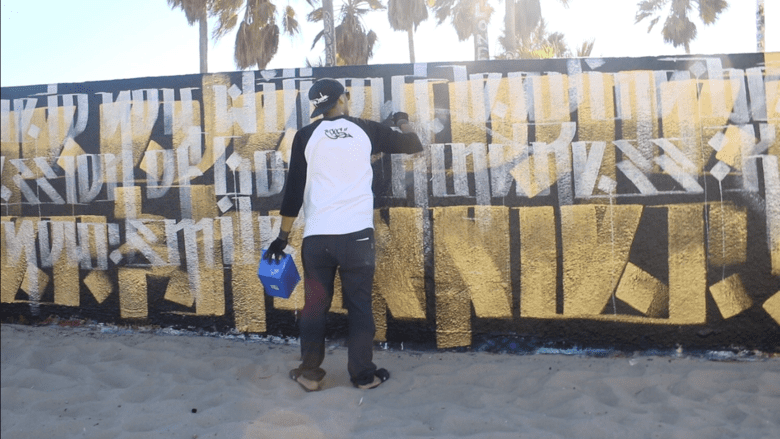 50 foot collaboration mural with Kim Tabay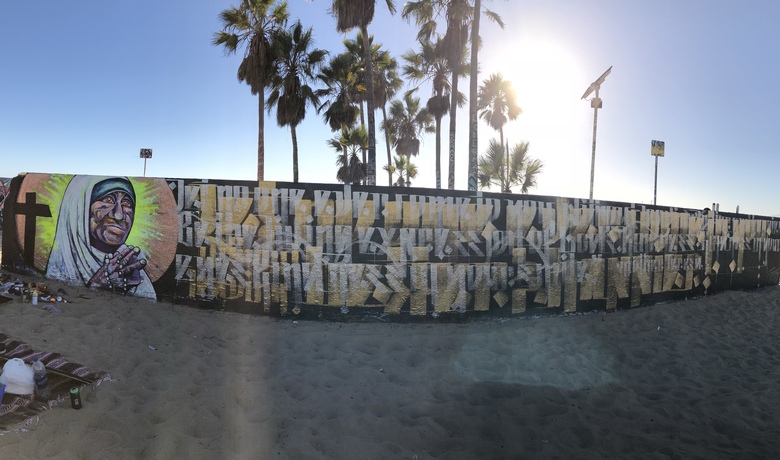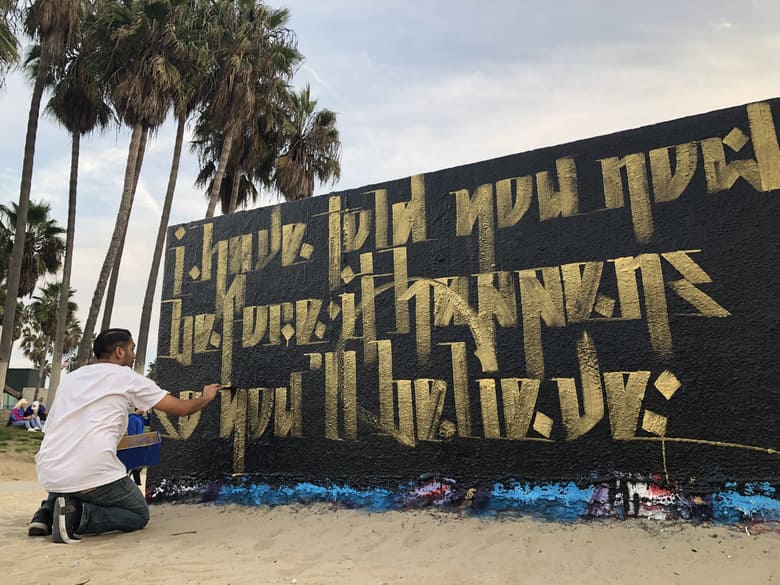 This calligraffiti mural says the words of John 14:29 which says 'I have told you now before it happens so that when it does happen, you will believe.'
A Brush with History
The Venice Art Walls boast a rich history, originally tied to the Venice Pavilion, which dates back to 1961. Back then, these walls were often blessed with graffiti murals, a practice technically illegal but embraced by both the community and, surprisingly, by the police. In 1999, the Pavilion met its end, yet a portion of these iconic walls was preserved, a living memorial to the twenty-five years of artwork that graced them. An exciting turning point occurred in 2000 when painting on the walls was officially permitted, leading to the area's renaming as the Venice Graffiti Walls. Later, in 2007, they became known as the Venice Public Art Walls, or simply the Venice Art Walls.
If you're eager to visit, you'll find the Venice Art Walls located at 1800 Ocean Front Walk in the heart of Venice, CA 90291.

What is a Mural?
If you've ever walked down a city street and found yourself staring in awe at a massive, colorful painting covering an entire building wall, you've likely witnessed the power and beauty of a mural. In this blog post, we'll explore what murals are, their history, and their purpose.
Full article: What is a mural?